Malaga Pass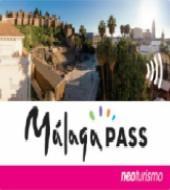 Do you want to save a lot of time and money while visiting the top museums and attractions Malaga has to offer? Buy the Malaga Pass now and avoid the queues! The Malaga Pass offers free entry to over 24 of the city's top visitor attractions, as well as great discounts at hotels, shops and tourist services!
What's included?
Alcazaba
Castillo de Gibralfaro
Cementerio Inglés de Málaga
Centre Pompidou Málaga
Colección del Museo Ruso
Fundación Picasso Museo Casa Natal
Jardín Botánico - Histórico La Concepción
MUACP Málaga
Museo & Tour Málaga CF
Museo Alborania
Museo Automovilístico y de la Moda
Museo Carmen Thyssen Málaga
Museo de la Cofradía de los Estudiantes
Museo de la Cofradía del Santo Sepulcro
Museo del Cautivo y la Trinidad
Museo del Vidrio y Cristal de Málaga
Museo del Vino Málaga
Museo Flamenco Juan Breva
Museo Interactivo de la Música Málaga. MIMMA.
Museo Picasso Málaga
Museo Revello de Toro
Noria Mirador Princess
Parque Prehistórico de la Araña
Principia Centro de Ciencia
A free guide is included in English!
Collections Points
Tourist office Plaza de la Marina
Address: Plaza de la Marina no 11
Opening Times: 1/11 - 31/03: 9 am - 6 pm
1/04 - 31/10: 9 am - 8 pm
Tourist Office - Málaga Airport
Address: Terminal 3 - Arrivals
Opening Times: Everyday 8.30am - 9pm
Your ticket will be sent within 24 hours in a separate e-mail.

Tickets will be sent via e-mail!