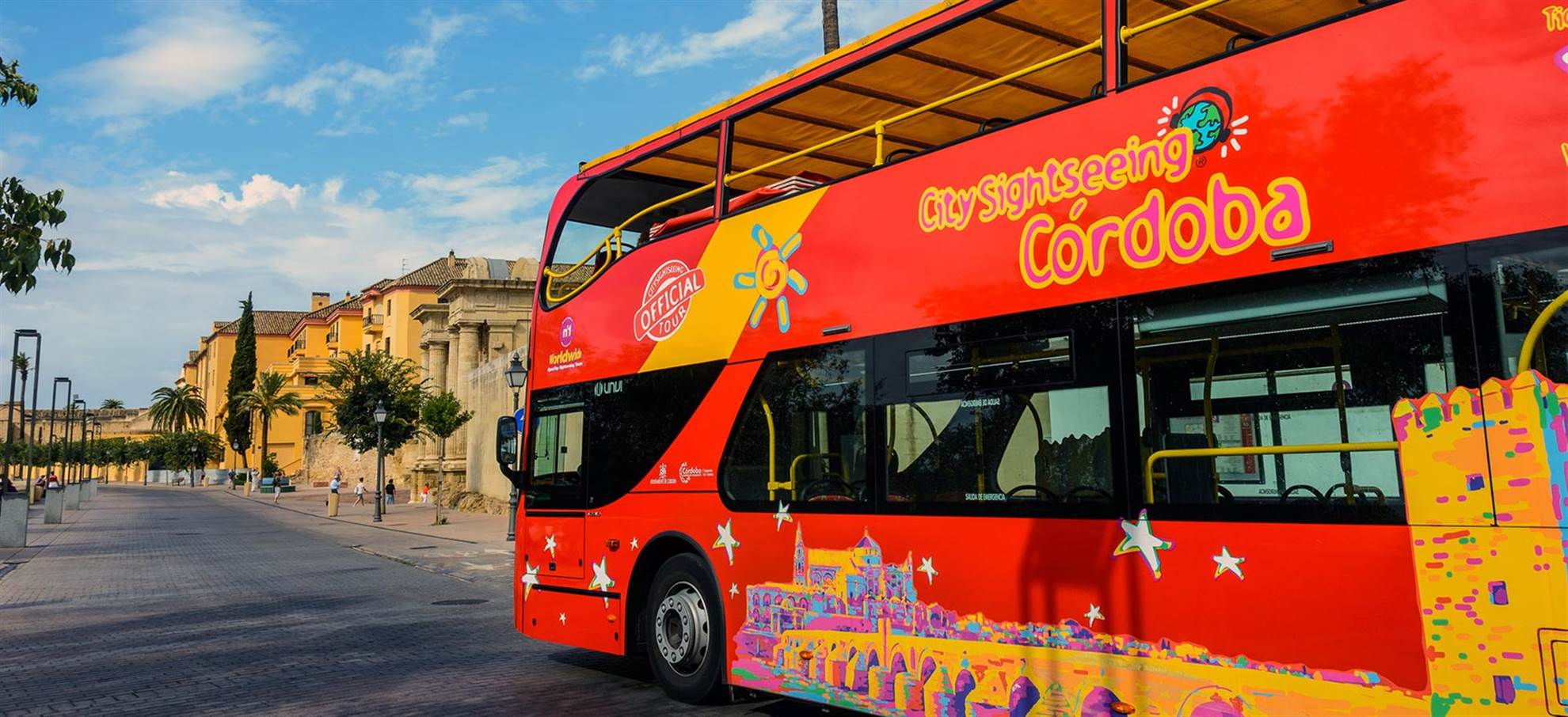 Cordoba Hop on Hop off Bus
To product
Discover the history of this charming city in the most comfortable way!
Cordoba was founded by Romans in 169 B.C.E. Because of its strategic position on the banks of the Guadalquivir River, it became a very important Spanish port city. But the greatest glory of the city was when it became the capital of kingdom of El-Andalus. By that time the work on the Great Mosque, or "Mezquita", began. This artefact became one of the largest mosques in all of Islam. The city was declared as a World Heritage by Unesco in 1994.
Our tourist Hop on Hop off Bus takes you to the most famous attractions in Cordoba. We invite you to sit, relax and enjoy the best views of the city.
You can hop on and off at any of the 17 stops. You are also welcome to stay on board for the full tour. The bus tour includes pre-recorded commentary in 10 languages (plus Spanish kids commentary).
Stops:
Parada Panorámica del Río - Parada Jardin Botánico - Zoológico - Parada Ciudad de los Niños - Parada San Basilio - Parada Puerta de Almodovar - Parada Mercado de la Victoria - Parada Gran Capitán - Parada Estación de Trenes/Autobuses - Parada Palacio de la Merced - Diputación - Parada Malmuerta - Sanata Marina - Parada Plaza Corazón de María - Parada San Lorenzo - Parada Realejo - San Andrés - Parada Ayuntamiento - Templo Romano - Parada Arco del Portillo - Parada Puente Romano (Ronda de Isasa) - Parada Baños Califales - Alcázar
Start Point: Stop 1 – Panorámica del Rio
Commentary: Pre-recorded Spanish, English, French, German, Italian, Portuguese, Japanese, Russian, Chinese, Arabic
Duration: 1h 20mins
Frequency: 15-40 minutes
Season: All Year Round
Ticket Length: 1 day or 2 day
Child tickets on this tour are for ages 5 to 12 years.
For further information, please see one of the City Sightseeing representatives at the main stops.